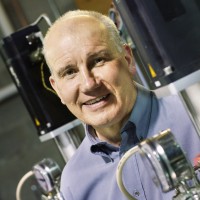 NSERC Industrial Senior Chair
Forest Sciences Centre
4043
2424 Main Mall
Vancouver
,
BC
V6T 1Z4
Canada
Areas of research include:
Application of enzymes in enhancing pulp and fibre properties
Fibre modification and bleach boosting pulps
Bioconversion of lignocellulosic residues to ethanol
Microbiology of waste water treatment
Application of fungi to upgrading and modification of forest products, pulp and paper and waste streams
---
Projects
Senior Chair in Forest Products Biotechnology
NSERC/Forintek/ Weyerhaeuser Canada
Substrate and enzyme factors that influence fiber modification
Assessing factors that limit the enzymatic hydrolysis of softwood derived cellulose
Bioconversion of softwoods to ethanol
Full characterization of western red cedar wood oil and the isolation and testing of tropolenes from the oil
Enzymatic and microbial treatment of pulp mill white waters
Use of immunoassays to monitor in-mill and waste water concentrations of hydrophobic, organic material
The use of enzymes to elucidate the structure and to modify native and recycled paper
IEA bioconversion task, Biotechnology for the conversion of lignocellulosics
Life cycle analyses of biomass-to-ethanol
Supply of pretreated biomass for surface characterization and enzymatic digestion studies
Bioprocessing Centre for Sustainable Fuels
Development of a technically and economically viable pre-treatment and enzymatic process for the conversion of softwood residues to ethanol
Development of value-added bioproducts from the bioconversion of lignocellulosics
Development of biorefinery technologies for conversion of softwood residues to ethanol and co-products
Participation in Biomass Consortium on Applied Fundamentals
---
Professional Affiliations
American Chemical Society ACS
American Society of Microbiology
Society of Industrial Microbiology
---
Awards
LifeSciences BC Leadership Award
,
2009
Fellow of the Royal Society of Canada
,
2007
Advances in Science and Technology Award, US Dept. of Agriculture, Peoria Illinois
,
2000
IUFRO Scientific Achievement (given out every 5 years)
,
1999
Charles D. Scott Awards for Scientific/Technical Contributions to Biotechnology for the Production of Fuels and Chemicals
,
1998
---
Current Graduate Students
Under what circumstances can biofuels be used to maximize biomass utilization value? an analysis of leading biofuel jurisdictions based on their policy, market and technology characteristics
Assessing the interactions between cellulase and xylanase components to determine an optimum combination to achieve efficient hydrolysis of pretreated lignocellulosic substrates
Development of Biofuels Policy in China
Pulp properties that influence the ability of enzymes to facilitate the conversion of kraft to dissolving grade pulps
Increasing the ethanol titer in fermentations of softwood derived sugar streams
High consistency hydrolysis and fermentation of lignocellulosic substrates for improved ethanol production
---
Post Doctoral Fellows and Research Assistants
---
Current Courses
Winter 2014
WOOD249 Contemporary Topics in Forestry and Wood Products Sections
Seminars on current forestry and wood products topics.